We're as biased as it gets when it comes to Belgrade, but even our rose-tinted glasses can't hide everything. Each season unravels a different facet of Serbia, painting a vibrant canvas that beckons tourists from around the globe. When is the best time of year to visit Serbia, you ask? Well, every month has its charms, but some undoubtedly have more charms than others. Embark on a month-by-month journey with us through Serbia and discover the allure that each season holds.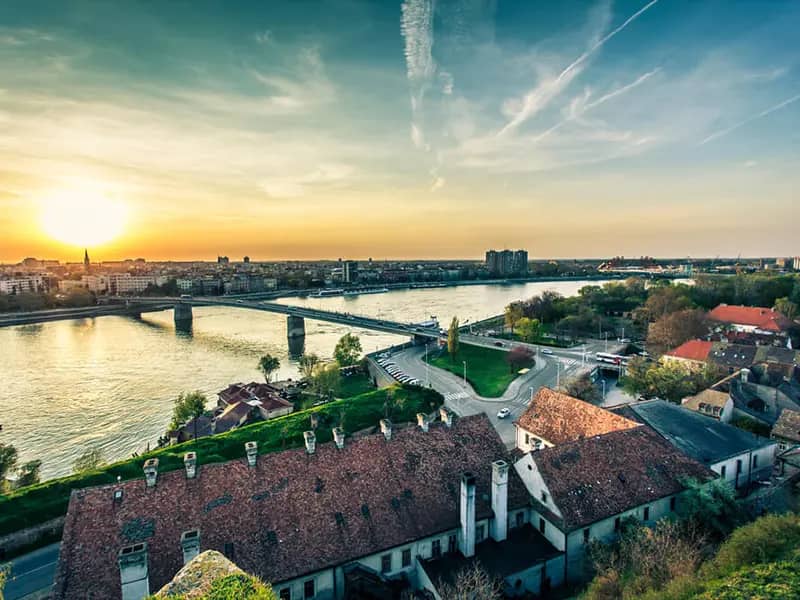 January
January is, on average, the coldest month of the year in Serbia, but that doesn't even begin to encapsulate the effervescent energy that fills the air during this time. Beyond the shivering temperatures that hover around 5°C and the 13 days of rainfall, January is illuminated by a host of festive activities that bring both locals and tourists out in their warmest winter gear.
The Serbian Orthodox Church leads the way, inviting all to partake in the joyous celebrations of Christmas and the New Year. Expect to be wrapped in a blanket of cultural immersion as these traditional celebrations unveil the rich heritage and religious customs of the Serbian people.
Beyond the religious festivities, January also attracts adrenaline junkies from all corners of the world. A time-honored tradition is the Epiphany Cross dip at Ada Ciganlija, where daring individuals brave the icy waters. It's a spectacle that brings together observers and participants alike, painting a lively portrait of Serbian winter. Whether you're a thrill-seeker looking for your next adventure, or a culture enthusiast yearning for an authentic experience, January in Serbia has much to offer.
February
While the general atmosphere is more subdued compared to the festive vibes of January, Valentine's Day does bring a touch of warmth and romance to the chill of winter. Seeing couples stroll hand-in-hand through the streets of Belgrade, their breath misting up in the frosty air, is a sight that can melt even the iciest of hearts.
The month's standout event, however, is the annual FEST Film Festival in Belgrade. Cinema enthusiasts can find solace in the cozy theaters showcasing a variety of films from around the world. It's an excellent opportunity for film lovers to dive into the global and regional cinematic scene while also getting a chance to rub shoulders with filmmakers and actors.
While February may not be Serbia's busiest month, it holds a unique appeal to those who prefer a quieter, more relaxed travel experience. It's a time to take leisurely strolls around the cities, indulge in warm Serbian cuisine, and truly appreciate the slower pace of life.
March
Indeed, March in Serbia is characterized by its capricious weather. You could be basking under the sun in 22°C one day and be reaching for your winter coat the next, as unexpected snowfall and freezing conditions take hold. This unpredictability extends to the amount of rainfall, which occurs on an average of 11 days throughout the month.
However, as the saying goes, 'March comes in like a lion and out like a lamb', and Serbia is no exception. By the end of the month, the mood visibly lifts as locals anticipate the departure of winter and the welcome arrival of spring.
While it may be a bit of a gamble, a visit to Serbia in March will appeal to those who are prepared for a variety of weather conditions and are flexible with their plans. Plus, the fewer crowds make for a more relaxed sightseeing experience. Despite its unpredictability, March can still offer a unique and memorable Serbian adventure.
April
April in Serbia is akin to a breath of fresh air. As the chill of winter recedes, the country awakens from its slumber, ready to embrace the rejuvenating spirit of spring. This is when the Serbian landscapes truly come alive, with garden terraces throwing open their doors, welcoming locals and tourists alike to bask in the mild yet pleasing temperatures.
Many argue that this is indeed the best time to visit Serbia. There's a palpable sense of excitement and renewed energy that permeates the country, making the atmosphere particularly vibrant. The parks, once barren and lifeless under the harsh winter, are now lush with new greenery, providing a delightful backdrop for leisurely strolls or lively picnics.
People are eager to step outside and make the most of the beautiful weather, filling the cities and countryside with an infectious liveliness. Outdoor cafes and eateries bustle with activity as Serbs return to their beloved tradition of socializing and enjoying food and drink al fresco.
April in Serbia offers a harmonious blend of comfortable weather, natural beauty, and cultural vibrancy. It's the perfect time to fully immerse oneself in the life and culture of this charming Balkan nation. Whether it's exploring the historical landmarks, relishing local cuisine at a bustling farmer's market, or simply absorbing the energetic atmosphere, Serbia in April is truly an experience not to be missed.
May
May in Serbia carries forward the spring's vibrancy, but with an added touch of anticipation for the approaching summer. Average temperatures typically leap by five points, but it's not uncommon to see weather gauges hitting the heady heights of mid 30s (°C), bringing a pleasant warmth that encourages outdoor exploration and leisure.
As May rolls around, Serbia's festival season kicks into high gear. The capital city of Belgrade leads the charge with the enchanting 'Night of the Museums', an annual event where museums and galleries across the city open their doors until the early hours, providing unique nighttime access to art, history, and culture.
But it's not just the arts that are celebrated during this month. Serbia's love for good food is showcased through a series of food festivals held throughout the country. These gastronomic celebrations put a spotlight on a diverse range of local produce, from sweet honey to savory sausage. Foodies will be in their element, sampling traditional Serbian flavors, discovering new culinary delights, and even picking up a few cooking tips along the way.
Whether you're an art aficionado, a history buff, a food lover, or simply a traveler keen to experience Serbia at its most vibrant, May presents a captivating blend of cultural experiences, lively events, and pleasant weather. It's a time of the year when Serbia truly shows off its colorful personality, making it a fantastic month for a visit.
June
With June, summer arrives in full force in Serbia, transforming the parks of Belgrade into bustling hubs for leisure activities. Walkers of all ages can be seen enjoying the lush greenery, although you'll notice a friendly competition for the most coveted spots in the shade as the summer sun intensifies.
June also heralds the peak of Belgrade's legendary nightlife. The river clubs, known as 'splavs', become a mecca for partygoers who revel in the vibrant music and festive atmosphere from dusk until dawn. The capital's nightlife scene is internationally renowned, and there's no better time than summer to experience it first-hand.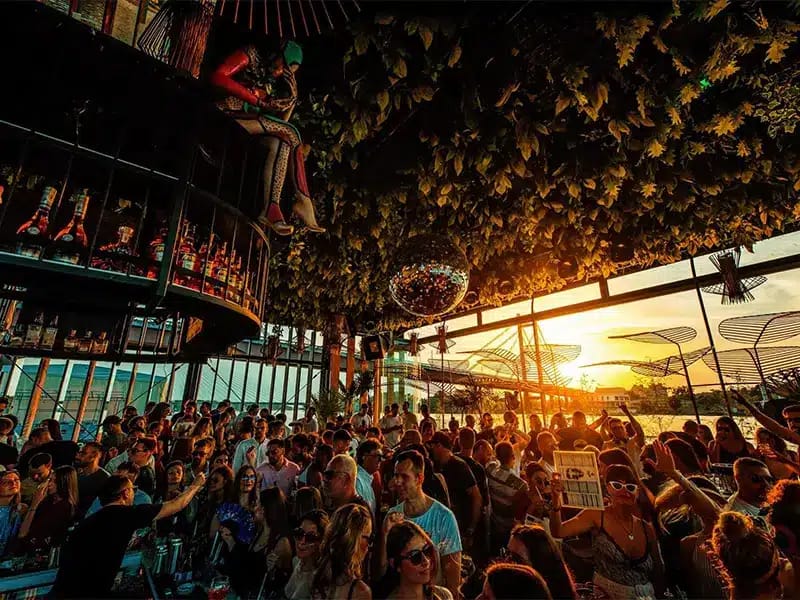 Yet, June in Serbia is not only about warm weather and festive nightlife. The 28th of June holds immense significance for the Serbian people as they celebrate Vidovdan, their national day. This date is deeply rooted in the nation's history and has been a stage for major historical events.
Visiting Serbia in June offers a rich blend of cultural immersion, historic significance, and high-spirited celebrations. You'll experience Serbia at its most vibrant, from its lively summer activities to the important national commemorations.
July
July in Serbia brings with it the peak of summer heat. In fact, the highest temperature in Belgrade's history was recorded in this month when the mercury hit a sweltering 43.6°C (110.5°F) on July 24, 2007. The blazing sun may prove a bit too much for some, but fear not, there are plenty of ways to stay cool in the city.
When the temperature rises, locals and tourists alike flock to Ada Ciganlija, Belgrade's popular river island. Whether you're taking a refreshing dip in the water, lounging in the bars along the shore, or simply enjoying a leisurely picnic under the shade of the trees, Ada Ciganlija provides the perfect respite from the summer heat.
July also brings with it the anticipation and excitement of EXIT Festival, one of Europe's most renowned music festivals. Held in the city of Novi Sad, festival-goers from all over the world descend upon the historic Petrovaradin Fortress to celebrate and enjoy a diverse array of music. Past line-ups have included big names such as David Guetta, Grace Jones, and the Asian Dub Foundation, making EXIT a must-experience event for any music enthusiast.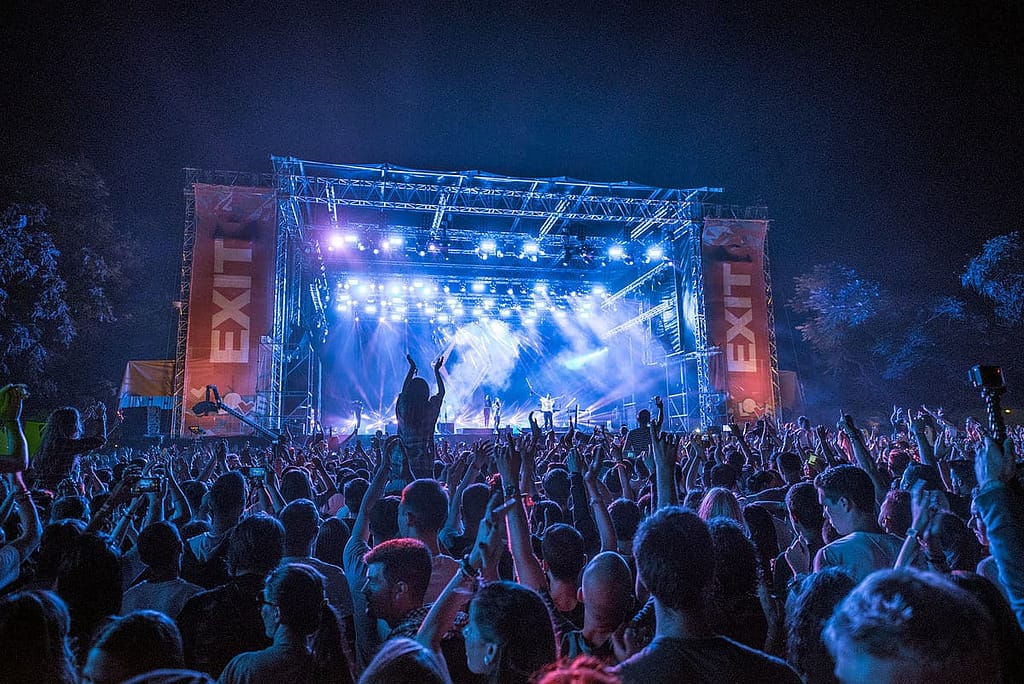 If you're not afraid of a little heat and love a good festival atmosphere, then July is an ideal time to visit Serbia. The country is in full summer mode, offering a mix of outdoor activities, lively events, and plenty of opportunities for relaxation and enjoyment.
August
As the calendar turns to August, Serbia is still in the firm grip of summer, much like winter, it seems endless to many. The sun continues its warm embrace, with average temperatures peaking at around 28.7°C. But don't let averages fool you. Most afternoons in August will find the thermometer hovering around the early 30s, making this a truly hot summer month.
With these soaring temperatures comes a surge in liquid intake. In the heart of the capital, the Belgrade Beer Fest takes the stage at Ušće park. It's a celebration of all things beer, drawing hundreds of thousands of visitors who come to enjoy a variety of local and international brews, along with live music performances, making it one of the most attended and lively events of the summer.
However, not everyone in Serbia spends their August amidst the lively festival crowd. Some residents choose to escape the city's heat and hustle altogether, seeking solace in the serene mountains that dot the Serbian landscape. These mountain retreats offer cooler temperatures, fresh air, and a tranquil respite from the relentless summer heat.
Whether you prefer the energetic atmosphere of a beer festival or the calm and tranquility of a mountain getaway, August in Serbia caters to a wide range of tastes. With a bit of planning and a healthy dose of sunscreen, you can truly make the most of a Serbian summer in August.
September
While September often signals a cool-down period in many parts of Europe, Serbia remains steadfastly warm. Temperatures in the high 30s aren't uncommon, ensuring that the last vestiges of summer are felt even as autumn looms on the horizon. However, evenings in the northern part of Serbia, particularly in the region of Vojvodina, become noticeably more pleasant, providing a welcome respite from the daytime heat.
September is also a month of festivities in Serbia's northern region. Cities like Novi Sad and Subotica come alive with a series of diverse festivals that populate the calendar. These range from art and music events to food and wine celebrations, catering to a wide array of interests.
Whether you're a culture enthusiast seeking to soak in the local arts scene, a foodie on the hunt for the next delicious morsel, or a wine connoisseur eager to sample the region's best offerings, the array of festivals in September offers something for everyone.
Visiting Serbia in September allows you to experience the last hurrah of the Serbian summer while also immersing yourself in the region's vibrant cultural scene. It's a time when the country straddles two seasons, showcasing the warmth and vibrancy of summer alongside the fresh, crisp beginnings of autumn. This contrast makes September a uniquely appealing time to explore the beauty and cultural richness of Serbia.
October
By the time October arrives, summer has gracefully bowed out, making way for the refreshing coolness of autumn. Just like in April, October presents a compelling reason to visit Serbia, but this time for the gentle charm of fall.
With winter on the horizon, Belgraders are eager to seize every last sunny moment. The city's lively bars and clubs still glow with warmth, their final embers flickering with the vibrancy of a season well spent. This urgency to embrace the waning warmth infuses the city with an infectious energy.
Autumn is a captivating season in this region. Belgrade's myriad of parks undergo a magical transformation, their foliage turning into a stunning tapestry of red, orange, and gold. This color show coupled with the more temperate weather makes October the perfect time for leisurely strolls through these urban oases.
Whether you're meandering along the tree-lined paths, soaking up the vibrant fall colors, or enjoying the city's vibrant nightlife, October offers a blend of experiences that capture the beauty and spirit of Serbia in autumn. It's a time of transition, a season that encapsulates the essence of change, painting the city with an allure that is sure to captivate any visitor.
November
Contrary to popular belief, November in Serbia is not merely the onset of a long, chilling winter. While the temperatures may drop to single digits on average, the sheer variety of activities and food festivals scattered across the country guarantee that no visitor will feel the cold of November.
One such notable event is Armistice Day, a national holiday that has been observed since the beginning of the decade. Serbia's role in World War I often goes under the radar outside its borders, but the fact remains that no country lost a higher percentage of its population during the Great War than the Serbs. The significance of this day is felt deeply within the country, and visiting during this period offers a profound perspective into the nation's history and resilience.
The iconic Pobednik monument in Belgrade stands as a testament to those lost in the war, offering visitors a place to pause, reflect, and pay their respects.
November in Serbia is a blend of commemoration and celebration. As you navigate through the historical landmarks and bustling food festivals, you'll experience the heartening warmth of Serbia's culture, making this a uniquely engaging time to visit the country. From the historical significance of Armistice Day to the heartening appeal of gastronomic events, there's plenty to engage with and explore in Serbia during November.
December
With the arrival of December, winter fully asserts its presence in Serbia. As the temperatures drop, locals and visitors alike are drawn to the cozy taverns and restaurants that dot the country. Although Serbia celebrates Orthodox Christmas in January, traditional Christmas markets can be found across the country in December, adding a festive flair to the winter chill. Subotica's Winter Festival is a particularly enchanting experience to look forward to.
For winter sports enthusiasts, December marks the beginning of the ski season. Many make their way to the mountains to take advantage of the freshly powdered slopes. Kopaonik, Serbia's premier ski resort, is a popular destination. Here, you can enjoy a variety of winter activities, including the unique experience of night skiing for those seeking an adventurous twist to their trip.
However, don't expect a winter wonderland in the cities, as December is typically Serbia's rainiest month. This gives urban areas a somewhat muted, yet peaceful, winter aesthetic.
Despite the chill and the rainfall, December in Serbia emanates warmth through its lively food scene, festive markets, and thrilling winter sports opportunities. Whether you're sipping mulled wine at a Christmas market, hitting the slopes in Kopaonik, or simply enjoying the hearty Serbian cuisine in a local tavern, December offers a captivating blend of experiences that capture the country's winter spirit.
Conclusion
Serbia is a country rich in culture, history, and natural beauty, offering a variety of experiences to its visitors throughout the year. From the snow-laden landscapes of winter and the vibrant spring awakening, to the hot, lively summers and the breathtaking colors of autumn, each season paints a different yet equally captivating picture of Serbia.
Choosing the best time to visit Serbia largely depends on your personal preferences and the kind of experiences you seek. Are you looking for the adrenaline rush of skiing down the mountain slopes, or do you dream of leisurely strolls through lush, colorful parks? Are you excited by the prospect of bustling summer festivals, or do you prefer the quieter charm of a festive winter market?
While winters can be cold and slushy, and summers sometimes overwhelmingly hot, each season has its own charms. Spring and autumn tend to offer more temperate weather, making these seasons a popular choice for many travelers.
Remember, no matter when you decide to visit, Serbia is a country that offers rich and diverse experiences year-round. From the bustling city life to the serene natural landscapes, from the cultural festivals to the historical landmarks, there's always something new to explore and enjoy in this dynamic country. So, plan your itinerary, pack your bags, and get ready to create unforgettable memories in Serbia!
Check out our party packages: