Lafayette Belgrade Cabaret Dinner Show
Unleash your inner hedonist at the LaFayette Belgrade Cabaret Dinner Show. Experience an unforgettable night of captivating cabaret, delectable dining, and world-class beverages in the heart of Belgrade's vibrant nightlife scene.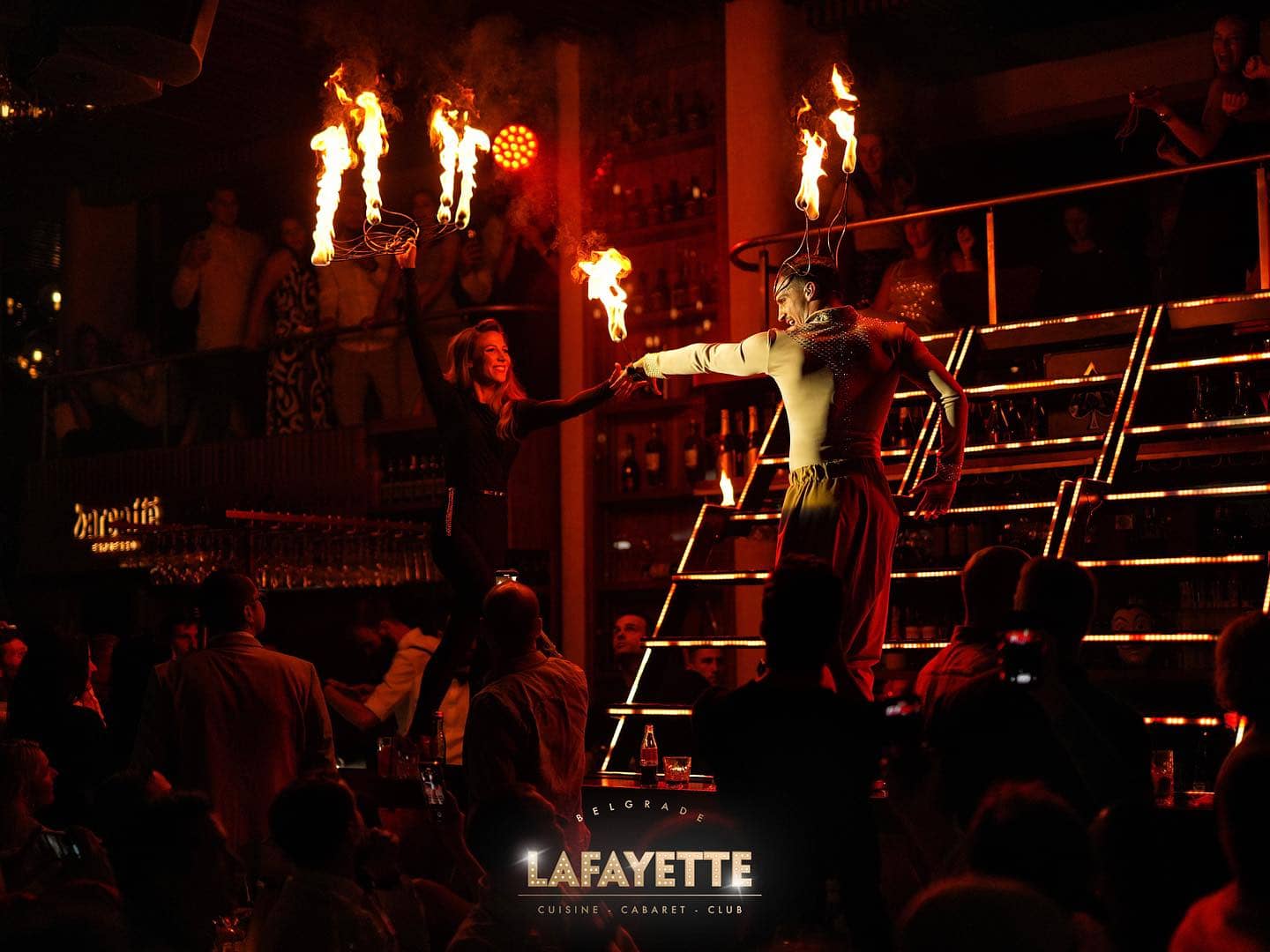 Lafayette Belgrade Cabaret Dinner Show description
Step into a world of unparalleled pleasure at the LaFayette Belgrade Cabaret Dinner Show, a realm where the past meets the present, and luxury meets fun. Nestled in Beton Hall, overlooking the stunning river, LaFayette offers a once-in-a-lifetime experience that marries the decadence of the 30s and 40s with the modernity of today's Belgrade.
Upon arrival, you'll be instantly captivated by the club's eccentric design, bathed in the glow of high-quality, modern lighting that sets the stage for the evening's performances. Our cabaret show, a rarity in the region, will transport you to an era of vintage glamour through enchanting choreographies, performed by a team of professional entertainers.
But that's not all. Alongside the mesmerizing performances, you'll indulge in a three-course dinner, with options to cater to every dietary preference, including vegan and special menus. Each dish is a culinary masterpiece, designed to tantalize your taste buds and complement the evening's entertainment.
Your ticket also includes a selection of beverages, from refreshing non-alcoholic drinks to a variety of beers and wines, and a range of top-shelf spirits. Whether you prefer the warmth of Jack Daniels, the exotic allure of Brugal Rum, or the classic sophistication of a gin and tonic, we've got you covered.
At LaFayette Belgrade Cabaret Dinner Show, every detail is thoughtfully curated to create a truly unforgettable night. Let us take care of everything, from the date and time to the table setting, while you sit back, relax, and let the magic of the evening unfold.
Lafayette Belgrade Cabaret Dinner Show addition info
What is included?
3 Course dinner (vegan and special menu's available)
Drinks that are included:
Water & non-alcoholic beverages

Beer

Wine

Alcoholic beverages (Cinzano, Carolans, Jagermeister, Bankes Gin, Brugal Rum, Brandies (quince, plum, William's), Jack Daniels, Finlandia)

Drink mix (Aperol, Gin Tonic)
After we get your request we will contact you for the date, time, table setting and give you more information to make this night unforgettable!