Welcome to the pulsating heart of Serbia, the city that never sleeps, the city of youth and energy, Belgrade! Known for its vibrant and ever-evolving nightlife, Belgrade is a city that promises unforgettable experiences when the sun goes down. With an array of nightclubs, bars, traditional taverns, and floating river clubs, known as 'splavs', the city caters to every kind of night owl.
Belgrade's nightlife is not just about the places, it's about the spirit of freedom and joy that you feel walking along its nocturnal streets. It's the rhythm of music echoing from the rivers, it's the laughter and chatter that fill the air, it's the warmth of the people who welcome you into their night. This isn't just a city that knows how to party, it's a city that knows how to live.
As a travel blogger who has had the privilege of exploring nightlife scenes across the globe, I've found few places that match the unique charisma of Belgrade. The city has lured me back time and time again, each visit revealing new experiences and hidden gems. Whether you're a party animal, a culture enthusiast, or just a casual traveler looking for a good time, Belgrade offers something for everyone.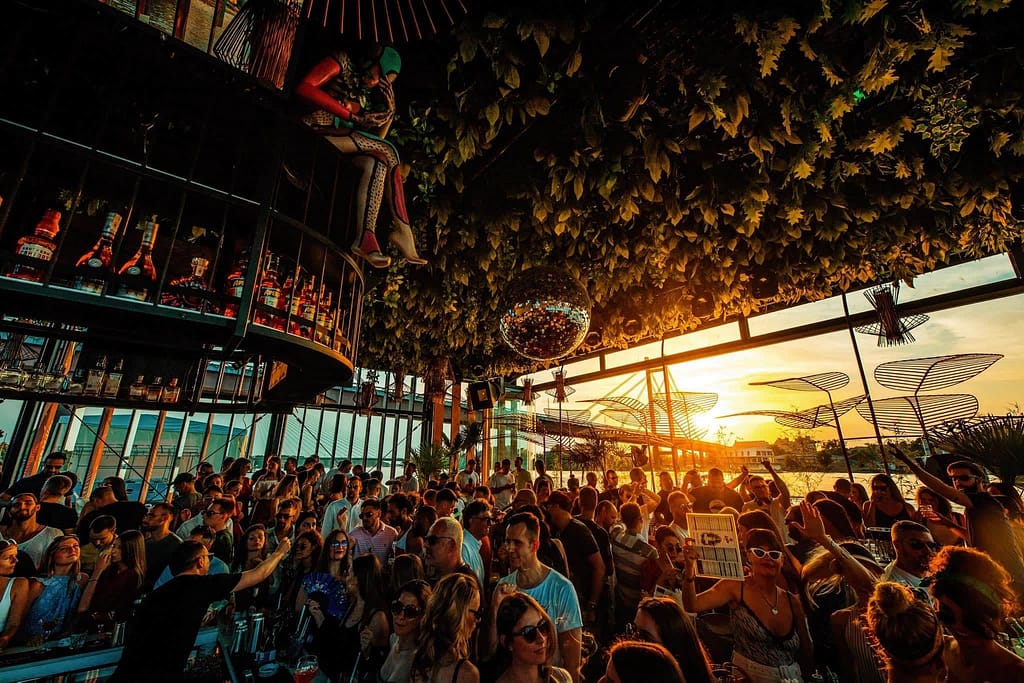 In the following sections, we'll dive deeper into what makes Belgrade's nightlife truly special. We'll explore the different types of experiences you can enjoy, some top recommendations, and a few practical tips. So, buckle up and get ready for a nocturnal journey through the heart of Serbia's capital, where every night promises a new adventure.
Understanding Belgrade's Nightlife
The nightlife in Belgrade is an experience like no other. It's not just about the variety and quality of the venues, but also about the unique energy and spirit that the city embodies. There's a palpable sense of freedom and celebration that permeates the air, making it an irresistible hub for those in search of unforgettable nocturnal adventures.
A key feature that sets Belgrade apart is the diversity of its nightlife offerings. From the energetic beats of techno and electronic dance music in state-of-the-art clubs, to the soulful tunes of traditional Serbian music in cozy kafanas, there's a spectrum of experiences to explore. The city is also famous for its 'splavs', or riverboat clubs, which offer a distinctive party experience with breathtaking views of the Danube and Sava rivers.
Belgrade's nightlife also stands out for its late-night culture. While in many cities, the nightlife may wind down around 2 or 3 AM, in Belgrade, the party is just getting started. Many clubs don't even open until midnight, and it's not uncommon for parties to continue until dawn. The city is truly alive 24/7, with bustling all-night eateries and 24-hour transportation ensuring that every moment in Belgrade can be filled with excitement.
The general mood of Belgrade's nightlife is one of pure joy and enthusiasm. The people here are warm and welcoming, always ready to make a toast and share a dance. Whether you're in a crowded club or a serene riverside bar, you're bound to find yourself amidst friendly faces and infectious energy. The spirit of 'merak', a Serbian word capturing the concept of joyful living and finding pleasure in the simple things, is truly embodied in Belgrade's nightlife.
Stay tuned as we delve into the different types of nightlife experiences you can look forward to in Belgrade in the following section. Prepare to be enchanted by the variety and vibrancy that this wonderful city has to offer.
Types of Nightlife in Belgrade
Belgrade's nightlife is renowned for its diversity, vibrant energy, and all-night parties. From eclectic bars and pulsating clubs to traditional Serbian kafanas and cultural events, there's something for everyone in the city's dynamic after-dark scene.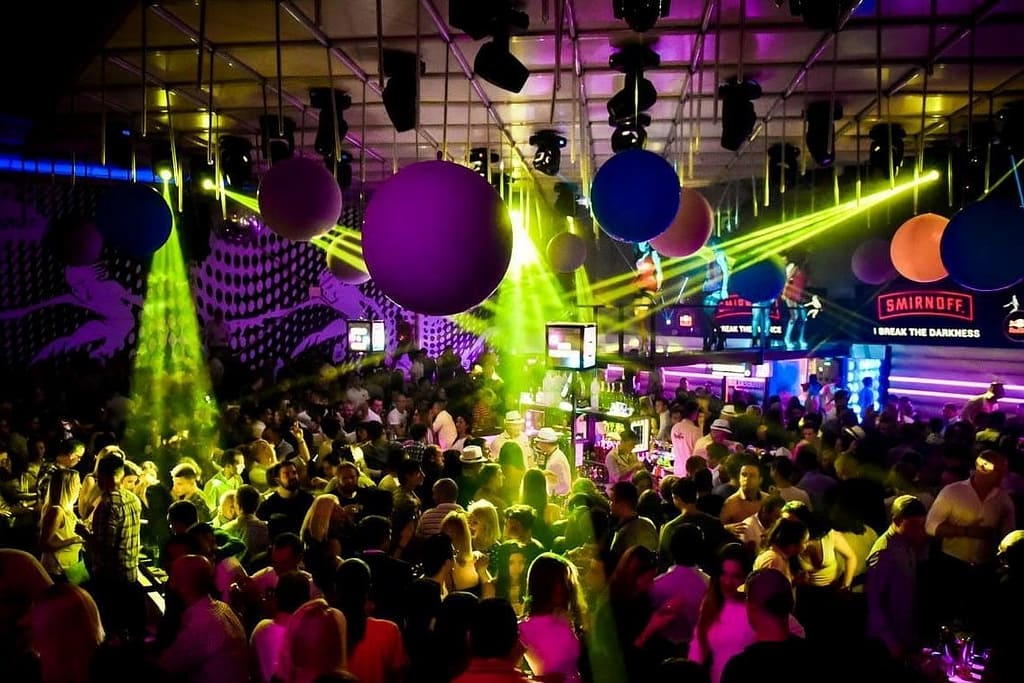 Clubs and Bars
Belgrade offers a mix of mainstream and underground clubs, each with its unique vibe. One of the distinctive features of clubbing in Belgrade is that you can typically book a table without being committed to expensive bottle service. Mainstream clubs often require reservations and are more upscale, while underground clubs have a more relaxed, alternative atmosphere.
Notable clubs in Belgrade include:
Klub 20/44: Known for its sexy lighting, eclectic music, cool parties, and a stunning view of the Kalemegdan fortress.
Tranzit: A combination of a restaurant, bar, and nightclub in Savamala, featuring a modern interior, great music, relaxed dress code, and vintage vibes.
Lasta Club: Offers trendy DJs, hip hop nights, and Sunday matinee events that start around 6 p.m.
Belgrade's bar scene is equally diverse, ranging from sleek cocktail bars to jazz bars lined with newspapers. Some noteworthy bars are:
Jazz Bašta: A popular jazz bar located in a 19th-century building.
Passengers Bar: A beer bar in Old Town known for its pizza and Kaš beer.
Rakia Bar: Offers more than 50 flavors of rakija, the traditional Serbian fruit brandy​1​.
Riverboat Parties (Splavs)
Splavs, or floating river clubs, are a unique feature of Belgrade's nightlife. Especially in summer, New Belgrade becomes a hub for these party rafts. Splavs cater to various moods and experiences, offering everything from techno and electro to turbo-folk music. Dressy attire is often required, and many splavs host pool parties during the day and transform into clubs at night. Splav Hot Mess is a popular destination for casual pool parties and music featuring house, deep house, and R&B genres.
Underground Venues
Belgrade's nightlife also includes a variety of underground venues, each with a relaxed and alternative vibe. Some popular venues are:
KPTM: A converted skatepark that now serves as a cultural center and nightclub.
Drugstore: Formerly a meat drying house, it's now a popular spot for the after-after-hours crowd.
Traditional Serbian Kafanas
Unfortunately, I was unable to find specific examples of traditional Serbian kafanas in Belgrade within the given time. However, kafanas are integral to Serbian culture, offering local cuisine, traditional live music, and a cozy, nostalgic atmosphere.
Cultural Nightlife
Belgrade's cultural nightlife scene offers a wide range of experiences from live music performances to comedy shows and festivals:
Club Ben Akiba: A two-story venue with a comedy club and bar on the lower level, and an art gallery and lounge on the top level. Live standup comedy shows are held on Tuesdays, Thursdays, and Sundays.
Festivals: Some popular festivals in Belgrade include the Belgrade Beer Fest in August featuring over 450 beer brands and music performances. The Jazz Festival in October, the international film festival FEST in February, and BELEF—the Belgrade Summer Festival—offer a blend of theatre, dance, local art, music, and performances.
Tips for Enjoying Nightlife in Belgrade
Understand the Seasons: Belgrade has two distinct clubbing seasons: winter and summer. Winter clubs, usually located in or near the city center, operate from late September to early May. During the summer, the focus shifts to "splavs", or floating river clubs, which are the main location for the best parties in Belgrade.
Dress Code: Like anywhere in the world, clubs in Belgrade have a dress code. Dress appropriately or risk not being able to enter the clubs. Remember, Belgrade is a city break destination and a European capital; it's not a beach bar.
Face Control: Security at the entrance of clubs provides face control, which is strict but fair. This means it's crucial to check the age limit for each club before heading there. If you look young, it's better to bring your ID. Also, try not to "warm up" too much in pubs or bars before heading to the clubs; you need to enter as a gentleman.
Tipping: Tips for waiters are not included in the bill at clubs, and it is customary to tip around 10% of the bill. Keep this in mind when you're paying.
Cloakroom Charges: During the winter season, most clubs charge for cloakrooms. The fee is typically around 1.5 Euros per jacket.
Remember, the best way to enjoy the nightlife in any city is to be respectful of its customs and people. So, get ready to experience the vibrant nightlife of Belgrade responsibly and have an unforgettable time.
Conclusion
Belgrade, with its vibrant and diverse nightlife, is a city that guarantees a good time for everyone, regardless of their preferences. The unique aspect of its nightlife, which starts late and ends in the early hours of the morning, is something that sets it apart from many other cities in the world.
Whether you prefer the eclectic bar scene, the unique experience of riverboat parties, the mysterious allure of underground venues, the rich tradition of Serbian kafanas, or the cultured vibrancy of live music and performances, there's something for everyone in Belgrade. Noteworthy venues like Jazz Bašta, Klub 20/44, Rakia Bar, and the Belgrade Beer Fest are just some of the places that offer unforgettable experiences.
Keep in mind the practical tips for enjoying the nightlife in Belgrade, from understanding the clubbing seasons, respecting dress codes and face control, being aware of entrance fees and tipping etiquette, to budgeting for cloakroom charges in the winter season.
In conclusion, the nightlife in Belgrade offers an array of experiences that cater to every taste and style. It's an integral part of the city's charm and something that every visitor should experience. If you've been to Belgrade or plan to visit, we'd love to hear your thoughts and experiences about the city's nightlife. Don't hesitate to share your stories in the comments section. After all, there's nothing like firsthand experiences and shared stories to inspire future travel adventures.
So, when in Belgrade, don't just visit… experience it! Nightlife in Belgrade is not just about having fun, it's about making memories that will last a lifetime.
Check out our party packages: